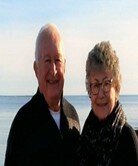 Obituary of Gilles and Leah Michaud
The Michaud family announces with great sorrow the passing of our beloved parents/grandparents, Gilles Joseph Elzier Michaud (86), and Leah Bruna Mazzuchin (84). Gilles and Leah passed away peacefully only 48 hours apart at Hospice Halifax, NS surrounded by their loving family. Gilles Michaud, the second of eight children, born on December 13, 1936, to the late Henri Michaud and Lucienne (Ross), passed on November 7, 2023. Leah Michaud, the youngest of three children, born on May 16, 1939, to the late Eugenio Mazzuchin and Anna (Bagnarol), passed on November 09, 2023.
Gilles and Leah were loving parents to Diane (Rick) Gallant, Joanne (Ray) Michaud, and Richard (Maria) Michaud. They were predeceased by their beloved oldest daughter Diane (Michaud) Gallant. They were proud grandparents to Parker, Evan, Eric, Nichole, Deanna, Matteo, and Vasili.
Gilles and Leah are survived by Nice (Dominico) Galasso, Andre (Diane) Michaud, Madeline (Henri) Forcier, Jacques (Lise) Michaud, Marc (Deborah) Michaud, Yvon (Linda) Michaud, Maurice Dubie, Victoria Muzzuchin, their many cousins, and cherished nieces and nephews. They were predeceased by beloved brothers Gino Muzzuchin, Jean Michaud, brother in law Dominico Galasso, beloved sister Claire (Michaud) Dubie and son in law, Ray Kuszelewski.
Gilles and Leah lived in Ontario where they met and married 64 years ago. Gilles served with the Royal Canadian Armed Forces for 29 years. His last posting was in Summerside, where they decided to make Prince Edward Island their permanent home. As they began their retirement years, Gilles had an interest in community based non-profit organizations and driven by his cooperative development philosophy, he was invited to manage island companies: Mahemigew Inc. Lennox Island, Culture Craft Co-op, Richmond Centre, and was a founding member of East Prince Funeral Home. Leah returned to University to obtain a degree in Sociology and Religious Studies. Their commitment to humanity manifested itself in many different ways. Both Leah and Gilles were active in the various cultural, political, economic and religious communities they lived in. They were among the first to engage with Fr. (later Bishop) Faber MacDonald in the 1980s in fostering Ignatius spirituality which also included the establishment of retreats. They would also be among the founders of Christian Life Communities (CLC) in the diocese of Charlottetown, in concert with the Jesuits of Canada. Ixthus CLC was their place for faith sharing and discerning missions to change unjust structures. Their involvement with the CLC led them to Rome in the late 1990s when they accepted an invitation to serve separate terms as President of CLC Canada and also as Executive Secretaries at the CLC Secretariat. As world leaders of the CLC, it was a privileged time that allowed them to visit and advocate for groups throughout all the continental regions of the world.
As members of the Atlantic Association of Spiritual Director's Apostolate they assumed leadership roles and collaborated in developing programs that would make formation in Spiritual Accompaniment more accessible to lay people. Gilles felt a great desire to explore how men journeyed in their spirituality and started the first Men's Spirituality Group on PEI .
Gilles and Leah were indispensable on the leadership team at the Martha Spiritual Center in Charlottetown, and the Marquerite Bourgeoys Center in Summerside. They have served at the parish level and diocesan level in marvellous ways such as Liturgy, Adult Faith Formation, Development and Peace, Social Justice as well as being presenters for the Diocesan Pastoral Associates Program. Leah's final lasting gift to CLC Canada was to help write their Leaders Manual and the Group Guide Resource Manual that will be used world wide.
In the words of Archbishop Desmond Tutu, they gave the world their love, their service, their healing, and they also gave the world their joy.
Their children proudly shared them with the larger world knowing Gilles and Leah would be there for them whenever they needed. As parents they taught them many valuable life lessons and to be grateful everyday. They had a special bond with each of their grandchildren that brought them much happiness. In our hearts, your memories will always remain alive.
Special thanks to Hospice Halifax and their incredible staff, where they stayed in their final months, the countless doctors, nurse practitioners, and health care professionals who helped during this last year.
Extra special thanks to their many friends, extended family and their community whom they shared a lifetime of love, good times and great memories.
Those wishing to honour Gilles and Leah's memory may do so by planting a tree, by donating to a local charity of your choice or by giving back in anyway you can with a kind deed to someone in need.
A Mass will be held in their honour on Saturday December 2, 2023, 1:00 p.m. at St. Augustine Catholic Church, 2190 Church Rd, Rustico, PEI, reception to follow at Rustico Lions Club.
The family asks that you share your condolences, memories, and thoughts on the tribute wall of the East Prince Funeral Home website, so they can be shared and preserved in one central place for legacy purposes.
Share Your Memory of
Gilles and Leah
ABOUT US
In the late 1980's, a group of citizens from the East Prince area met to discuss the possibility of establishing a co-operative funeral home. Two such homes were operating successfully in Prince County, namely the West Prince Funeral Home in Palmer Road and the Evangeline Funeral Home in Urbainville. As a result, on January 24th, 1989, the East Prince Funeral Co-operative Ltd. was formed.
OUR LOCATION
East Prince Funeral Home
245 Pope Rd, Summerside, PE C1N 5T2, Canada
Phone: (902) 436-0915
Fax: (902) 888-3112
Email: epfuneral@eastlink.ca
---