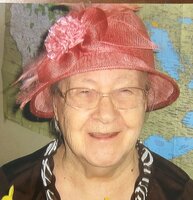 Vivian Haroldine Nichols
The death occurred peacefully at Prince County Hospital, PEI, on Saturday, February 18, 2023 of Vivian Heraldine Nichols (nee Rose), of Summerside, Age 100. Vivian was born in Brown Hill, Ontario in 1922, to her late parents Harold and Zelda Rose (nee Pringle).
Beloved wife of the late George Edgar Nichols and dearly cherished mother to Daniel (Elaine) of Scarborough, ON, James (deceased) (Anne) of Summerside, PEI, Richard (deceased), and Bonita Nichols of Summerside. Dearly loved by her grandchildren Jared (LeeAnne) and Joshua of ON, Catherine (Robert) of Taiwan, Pamela (Paul) of NS, Loretta (Robert) of NS, Rebecca (Bradley) of NB, Timothy (Michelle) of NB, Leslie (Catherine) of ON, and Elizabeth (Robert) of NL. Remembered by her great-grandchildren: Ember (Blake) of NY, USA, Megan and Heather of NB, Adrean and Aurora of ON, Mason and Owen of ON, and Tiberius of NB. Vivian is survived by her dear sister Georgina of Newmarket, ON and her many nieces and nephews.
She was predeceased by her sisters: Irene, Wilma, Norma, and brother Claire.
Funeral service to be held at the Kingdom Hall of Jehovah's Witnesses on Taylor Road, PEI, at 3:00pm on Monday February 20, 2023 and will also be streamed via Zoom. Internment to take place at a later time at the Kingdom Hall Cemetery, Alberton, PEI.